The initial product of UPilot is a Sales CRM positioned as a viable alternative for companies that want to upgrade to a reasonably priced role-based access solution to scale their sales organization and get excellent forecasts.
It packages the enterprise capabilities of role-based access etc., into the hands of startups to avoid migrating from one CRM to another as they keep growing.
Our strategy:
Deliver the enterprise features in a super simplified form and make it accessible to small companies to grow faster.
Remove the cost and complexity of implementation if you are under 500 users.
Deliver all aspects, sales, marketing, and support in a single product at a starting price point of $29 for small teams.
Disrupting the CRM market is complex compounding, like building an electric car; it has to be a car first and have all aspects of the vehicle; the same goes for CRMs.
Today anyone can cobble up a CRM using 3rd party APIs that sends data to multiple partners without the user's consent. Though this allows you to have features up and ready in days, that model is bound to be exposed eventually and will eventually fail as more and more people understand the value of data.
The success of our plan will hinge on the amount of money we can invest in distribution and inside salespeople simply because, however simple you make it CRM is AB type of product.
Our focus initially will be 1, 2, and 3 types of markets.
here is an article that explains these aspects clearly: https://a16z.com/2017/06/09/distribution-model-sales-channels/
So far, we have been fortunate with our customers supporting us with close to $1M in convertible debt. It is close to the amount of money I invested in the product. I am delighted that this money eventually came from our customers and not from external investors.
We have been able to build the right Sales CRM, which is now helping companies large and small to forecast their sales and managed role-based access without higher costs and complexity.
In the short term, we will face competition from companies that will want all three aspects, sales, marketing, and support – we will overcome this challenge using two approaches.
We provide API access to our customers and great integrations with excellent products, so they have the best of all apps.
Building those aspects into our system and presenting them at the same cost over time.
This would mean our customers will be able to do all 3 using the same product at a straightforward and single price point.
Our funding plan:
Continues gaining customers with the core product.
Launch complementary products ( we call them upilotx) that are mini AA-type products in 1 and 2 markets that will generate quick cashflows to develop UPilot further.
Keeping the doors open for more of our customers who wants a piece of the action.
Our goal is to get to a single product that does not require long implementation cycles and high cost for companies that need under 500 users, provide the functions of sales, marketing and support at a price point starting at $29 per user.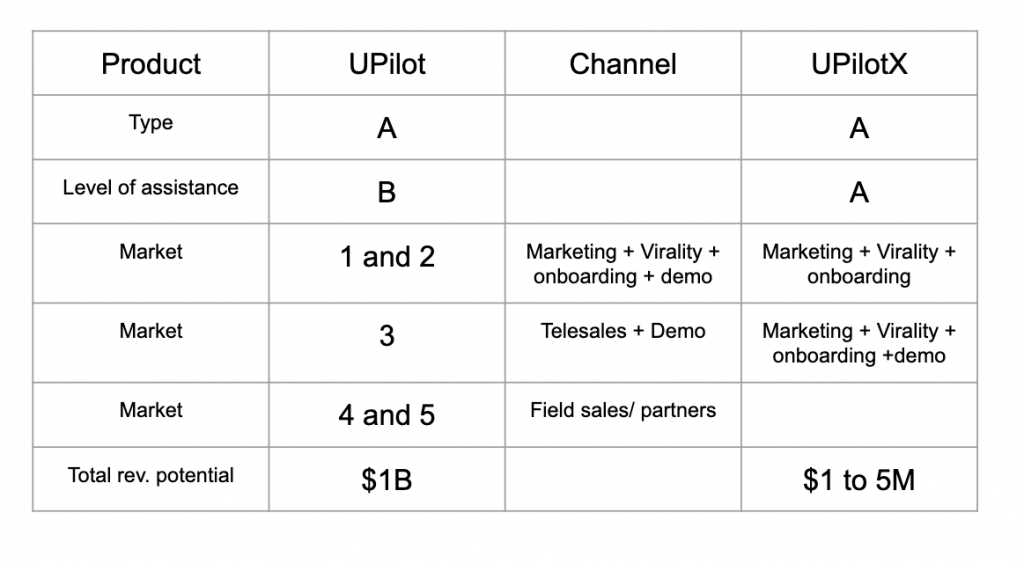 Becoming AI-focused.
Without revealing too much, our long term vision is to build a tool that works on top of AI. We believe AI is not a feature that gets plugged in as a virtual voice or non -voice assistant but a platform that will power the salespeople into closing more deals and take over the executive functions of a sales manager.
In short, the master plan is :
Build a great sales CRM,
Launch lightweight, scalable UPilotx products
Use the money from both to add marketing and support aspects and scale sales teams.
Dominate the $0 to $50 million dollar market first
Go to the enterprise market.
Do not tell anyone.